Do you remember when I did the AG School Fashions through the Ages? I thought I'd do another one for Christmas. Again, I don't own all of the AG Christmas outfits but I do have a lot! I'm mainly going to focus on the modern doll Christmas outfits because they change every year, however, I do want to make a note of a few special historical Christmas dresses that have changed through the ages:
Molly's dress, at first did not have any buttons. They changed the dress to match Nick Bate's illustrations and added them:
Felicity's dress changed very slightly when AG went from PC to Mattel.
My German Felicity is wearing the PC one with real taffeta fabric and snaps for the stomacher. Mattel Lissie is wearing the same gown but it is a weird parachute or stiff spring jacket type of material. The stomacher is attached by velcro.  The neckline is much lower.
Samantha's dress changed the most. Although, the design itself never changed (until she got BeForevered) the lace did: It was first released with beautiful heart-shaped lace:
Please excuse Nellie and Emily photo bombing, but can you see the differences in the lace? I have heard that there are many different varieties of lace in Sam's Christmas dresses, not just the two I have.
Again, I don't have all the AG historical Christmas gowns, but here is the back row:
 I really had to smoosh the next row of dolls together to fit them all on my dresser!
  And the front row:
 Historical dolls:
Modern dolls:
(Note: This time I added AG photos of the 'special' dresses I don't own. What I mean by 'special', is AG majorly featured the particular dress in the catalog even though other Christmas dresses were also sold along side it.
1996
Interestingly enough, American Girl's first release of modern holiday outfits did not include a traditional Christmas dress at all. Instead they released a Kwanza, Hanukah, and Chinese New Year outfits. I own the Chinese New Year outfit that Suki is wearing:
 This outfit actually came with a whole lot more: a brass gong and mallet, fake firecrackers, and a fake envelope with a lucky dollar in it. I got this outfit cheap on ebay. The other parts are rare to find and very expensive.
1997
New winter outfits but no Christmas outfit.
1998
Four Christmas outfits were released in this year. I own three of them:
 The sweater of my Snowball Sweater and Leggings set is missing the velcro so it doesn't close. But talk about sparkly!! The sweater looks soft but it's actually a scratchy yarn that I would never be able to wear. The headband has stretched out over time, and if Jacky moves even a little bit, it falls off. The boots and leggings are soft and fuzzy though.
 The Snowflake Jumper consists of a white blouse with sheer sleeves (I'm picturing Julie looking good in this), and very scratchy gold sparkly tights.
 The jumper is stiff, thin velvet. It also comes with a headband that doesn't fall off, and black shoes with two little gold balls on the tops.
 Miranda is wearing the very first original Holiday Dress. The belt is really a ribbon and can be removed. The shoes and bow do not belong to this dress although that's what it did come with. The other outfit that's missing is the green holiday bibs outfit that I just never had a desire to get.
Here are the 1998 outfits:
1999
No Christmas outfits but the Millennium outfit was released at the end of the year.
2000
 2000 was the first year AG came out with a 'special' holiday dress, as you can see by the tag of the Twilight Outfit. It is a special outfit though, very beautiful, sophisticated, and it comes with lots of pieces:
 First, the headband which is pretty, but those teeth really catch on doll hair and tangle it up.
 The jacket's buttons don't work, it has snaps instead. The purse is also elegant although I've had to redo the strap of mine because it wore out.
 Don't you just love the fur trim on Jessica's sleeve. She's holding a present that came with this dress and it actually has something in it! (the catalog says there's a surprise inside).
 The box lid simply lifts off to reveal, a tiny beaded compact mirror:
 The outfit and accessories were sold separately.
2001
Three Christmas outfits were released in this year too. I just own two of them. The missing one is the Petal Pink Outfit which was a pink sweater and skirt.
 Kim is wearing the Ice Blue outfit. The soft wrap sweater is paired with a sparkly skirt, tights, and sparkly silver shoes.
 Lindsey is wearing the 'specially featured' Garnet Holiday Outfit. It's similar to the 2000 outfit but it's a dress and it's sparkly. Even the accessories were similar which is why I don't have them.
Here are the 2001 releases:
 2002:
Just one dress for 2002, but it's a beauty:
 Kaya is wearing the Starry Night outfit. It is heavy velvet that attracts every cat hair and piece of dust flying in the air (but it's still pretty even with cat hairs on it!)
 No velcro! It snaps together, and then the bow snaps to close it.
I love the embroidered front.
2003
Two new outfits which I do not have: the Shimmery Gold Dress, and the 'special' Radiant Rhinestones outfit:
2004
Kathy is wearing the Winter Magic outfit. It's supposed to come with an off-white collar which I don't have so she's wearing some furry white thing I found for a collar. The skirt is almost like a tutu, look at the layers!
Although this was the only Christmas dress readily available at the time, AG did come out with it's first exclusive holiday gown – the Merry Moonlight outfit. If you keep reading this super long post you'll get to the exclusive section and I'll talk about it.
2005
The Chocolate Cherry outfit was released. It's one of my least favorite Christmas dresses because I'm not a fan of cheetah print.
2006
This was the year AG Barbified everything. They Barbified Elizabeth, making her blond with blue eyes with a pink dress, and they even Barbified the Christmas dress – the Sweet Sequins Party outfit.
Yes, I'd say this is a party outfit (how about a Valentines party outfit?) but not a Christmas dress. But that's how they featured it in the catalogs.
2007
Two outfits were released although, I never saw the Santa's Helper dress in any catalog.
Mine is not complete. It is supposed to come with a scarf and Santa hat but I got mine cheap on ebay because of the missing parts.
I found the boots tricky to get on and they got kind of bent out of shape. Perhaps it's because Carlie is wearing tights but tights don't actually come with this outfit.
 I love the poinsettias embroidered on the hem.
 The 'special' dress of 2007 was the Midnight Holly outfit that Nicki is wearing. I believe it's the very first bubble dress AG came out with.
The gold vine design on the skirt is embroidered on the shiny material.
The 2007 Christmas dresses together.
2008
The main dress was the Scarlet and Snow dress. It's the typical AG red dress where if you have one, you kind of have them all:
 It's thin and not much to write home about. Definitely not my favorite.
 Another 2008 outfit is the Sapphire Party dress which kind of goes with the Hannukah set AG also offered that year. Katie is wearing a sparkly turtle neck and a blue jumper. I like the gathered material at the chest. I think it's much prettier than the Scarlet and Snow outfit.
They go nicely together though:
 2009
The maroon Christmas dresses tend to be some of my favorites and the Sparkly Plum dress Sonali is wearing is no exception.
 The Scarlett and Snow dress was too simple for me, but this one is just right. The tights, shoes and hair band complete the sparkly look.
Another Christmas-y outfit released that year (although, again I never saw this in a catalog) was the Holiday Sweater set -my favorite AG sweater ever made! I wish I could have one in my size. It's so thick and warm and I love the cable knit on the sleeve.
The sweater comes with a headband and mittens but since Kanani is eating cookies she didn't want to wear them!
2010
This year is similar to the Scarlet and Snow dress but even worse – which is why I don't own it. (I don't even know why I own the Scarlet and Snow dress.)  Here is the Ruby and Ribbon dress:
There was another exclusive dress, the Snowflake Ballgown that was released this year. You'll see Grace wearing it later in this post.
2011
I actually like the Merry and Bright dress even though it's yet another red Christmas dress, but I don't own it:
2012
This year, two 'special' dresses were released both of which I don't own:
The Rosy Red dress:
and the Purple Party Outfit: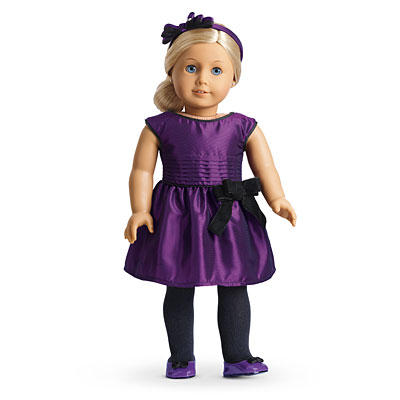 However, Elianna and McKenna posed for a pic in some Christmas-y 2012 outfits:
 Elianna is wearing the apron from the awesome Christmas baking set and McKenna is wearing the Soft as Snow outfit that went on a deep discount at the end of the year. I got it for the pretty sweater.
2013
AG continued the trend of having two 'special' Christmas dresses. Saige is wearing the Sparkle Party dress.
It's a great dress not only for Christmas, but my dolls wear it every 4th of July too!
I just realized I have zero modern gold dresses from AG, and I kind of wish I would have bought the Brocade Holiday Dress:
I remember considering buying it, but before I actually decided on it, it was gone.
2014
Also two Christmas dresses, but one far outshone the other. I got the Sparkle Party dress on sale after Christmas and I assumed the same thing would happen with the Happy Holiday Dress, but it actually sold out before Christmas and I had to try to find it (incomplete) on ebay. It was worth it though because I love this dress.
 I love the sparkles and the tulle. It also is a great 4th of July outfit.
The other 2014 dress is the Silver Shimmer dress:
2015
Again, the usual red, the Joyful Jewels:
And the Gorgeous Gold:
2016
Learning my lesson from 2014 I bought the Merry Magenta outfit full price because I absolutely loved it and knew I would regret it if it sold out:
I'm not disappointed because I used it as a garden party dress besides a Christmas dress. Lea loves the purse and headband that comes with the outfit.
The other outfit which I can't stand is the Golden Sparkle outfit:
The top is too sparkly and the bottom is too casual.
The Exclusives
Never in my wildest dreams did I ever imagine I would own almost all of the AG exclusive gowns. That is, until someone on AGPlaythings sold them to me for just $27 each! Some are not complete, but I don't care! I'm more than thrilled that I got them:
The Merry Moonlight gown is so deep navy blue it's almost black.
 I love the starry sparkles on the skirt but the cape really makes the dress pop:
 It includes sparkly hair clips, silver shoes,
 and a snowflake purse.
 I love the ebroidered snowflakes on the cape and the clasp at the neck.
Snowflake Ballgown:
 I think this is an exclusive but I'm not sure. It's fancy enough to be one, though. I love the deep blue color (don't tell my Grace, but the actual Grace Thomas would look better in this dress because it would bring out her eyes.)
I wish AG would make bigger crowns, but this one is very pretty. Close up of the snowflakes:
Merry and Bright:
 I was SUPER tempted to get this when it first came out. But spending $72 on a dress made me cringe too much. Instead I got this on ebay (this was the one dress the agplaythings seller didn't have) at a much more reasonable price.
 It is such a perfect Elsa dress. I love how flowy it is.
And even though the cape closes with velcro I love it anyway. The shoes have a high heel making Lanie really tippy, but they're also very pretty:
I'm getting sidetracked here, but another outfit that reminded me so much of Lanie's is the Wellie Wisher's winter outfit:
The dress is a very plain (glittery) parachute material.
The shoes are kind of cute.
It's the cape that really makes this outfit. The snowflakes are only on the front, but it still is so beautiful. Here they are together:
My new-to-me Marisol doll (more on her in a later post) is wearing the Ruby Ballgown. When I first saw it I wasn't sure if I liked it, but seeing it in person, I've changed my mind.
The coat is a bit of a disappointment though. It's very beautiful, but there are two problems, it doesn't close, in fact there isn't even enough material for it to close if you wanted to add snaps or velcro to it. And along those same lines, there isn't enough material in the sleeves for a doll to wear a long sleeve Christmas dress with the coat on top. Her arms must be naked. I did get Nellie to squeeze into it with her long sleeved Christmas dress but it took a long time to get that accomplished:
Sorry, I don't have a pic of Marisol wearing the coat with the dress (yet). Marisol herself was having problems. Her face and hair was a disaster and I wanted to fix it before I put the whole outfit on her, but I didn't have time to do that yet (again, I'll discuss her problems in detail in another post).
The Frosted Violet outfit is my second favorite exclusive dress. I'm just surprised it comes with sandals. Isn't this a Christmas gown?
I think it's stunning with or without the shrug, but Maggie was cold so she put it on:
I love the layers of tulle.
Spakle, sparkle, sparkle!
Even the headband sparkles!
The Fancy Frost ballgown does nothing for me. If it had the same flow-y material as the Merry and Bright gown I'd consider it, but unless it goes on a deep sale I'm not going to get it.
That's it! I guess I'll continue to update this post every year when the Christmas outfits are released. Do you have a favorite?
-Heather