In my two catalog posts Part 1 and Part 2 I mentioned that I would make a separate post of the "extras" that I own that can be seen in the catalogs. So here it is! I am going to go in the order they were released by AG.
The Doll Patterns
I got  3 of these patterns at a rummage sale a while ago hoping to start sewing  for my dolls (my aunt even offered to help me and lend me her sewing machine) but so far, that hasn't happened and I'm not sure it ever will. I have so many things I want to knit first that I don't think I'll ever get to sewing. But I have the patterns just in case. Here are Molly's, Samantha's and Josefina's (whose patterns were obviously released when she came out).
 Take a good look at this Picture of Molly. Do you notice anything different? She seems to be in her Christmas dress which seems odd, and her glasses seem overly large…I will delve into this mystery very soon, keep reading (or skip this part if you're already bored!)
 When you untie the ribbon and open the envelopes of the patterns, the first thing you see is a photo of the doll and all the outfits you can make. Here is Josefina's.
 The second page discusses historical facts about the clothing worn.
 Molly's.
 Samantha's.
 Then, you get instructions  on how to sew each garment and the patterns themselves ( I don't really know what they are really called since I've never sewn anything in my life).
 Games
Another rummage sale find I got just this past week actually, is a portfolio of games that the historical characters played in their time periods. This is so old, Addy hadn't even come out yet!
 This is actually the first time I'm looking at this kit, and all I've had time to do with it so far is take pictures of it for you, so I can't really describe it in detail.
 This is the book that describes the games and gives history of games played by girls in the past.
 The back of the portfolio.
Molly
Remember that picture of Molly? Well, Molly looks different because when she first came out, she had different illustrations in her books compared to what you see now. I believe (I don't really know though) that Molly's illustrations changed to what we now see when books 4, 5, and 6 came out. I happened to pick up these old books (at least books 1, 2 and 3) at a used book store a while ago. Here are comparison pictures. The old ones (copyright 1990) are on the top and the "new" are on the bottom. I apologize for the glare in some of the pics.
 They all have very similar covers but it almost looks like Molly "grew" in the new books.
 Some of the illustrations are also very similar like the one you see below.
 And others like these next two are very different.
 The text of all the books are the same of course.
 Again, I apologize for the glare, it was so hard to take pictures of these books because they wouldn't stay open unless I held them and the camera at the same time.
 I have to say, maybe it's because the new books are what I grew up with, but I like the new ones MUCH better. The old ones just seem to have dull, and drab colors.
 American Girl Pastimes
I got Samantha and Molly's complete pastime collection when I was a girl. I acquired parts of Kirsten and Addy's from rummage sales as an adult. I'm going to focus on Samantha. If you buy the collection all at once it comes in a box like this:
 Inside are Samantha's craft book:
 The beginning of each chapter begins with historical information about what girls used to make things with and what they did in 1904.
 Then, there are instructions of crafts you can make. The only thing I actually made from this book when I was a girl was a lace fan.
 Samantha's cookbook.
 Like the craft book, the cook book has historical information at the beginning of each chapter too. It's split into breakfast, lunch, tea, and dinner.
 I am the furthest thing from a cook and never enjoyed baking (I still don't) so I never made anything in this book.
 My favorite part of this pastime collection were the paper dolls. I played with them so much that some of the dresses got bent/ripped even though I tried to be careful. This envelope is empty. I have no clue where my paper dolls are. Molly's are gone too! If I ever find them I'll try to update this post. What I remember not liking about this set as a girl was that although Samantha and Jip were both cardboard pullouts, all of her clothes and accessories (and there were many; everything from the books were in the paper doll set) were magazine type paper that had to be cut out with scissors. I thought this was odd because I also had a Disney Princess paper doll set too and everything from that set was a cardboard cutout. I have a handicap with scissors. I cannot cut in a straight line to save my life! I remember being so mad when I accidentally cut into the dress or the tab to fold it around the doll.
 I found a picture of what a page looked like before it was cut:
The last kit is a theater set you can do with friends. It comes with a directors book and 4 scripts. The story is taken from her books.  Although I badly wanted to use this set, I couldn't because when I was young, I only had one other friend who loved AG as much as me and I didn't get to see her all that much because she lived far away. The rest of my friends did not care for AG and some of them, who are still my friends to this day don't like dolls at all! They think they're a bit creepy.
 Oh, I forgot, it also came with a poster to advertise the play.
 Trading Cards
This is my very favorite "extra" that AG ever sold. You had to buy the cards and album separately. The album was sold with the card sleeves, but no cards in them.
 You could chose to buy little packets of trading cards or you could get the whole collection in a box. The box I have contains cards for only the first 5 American Girls. When Josefina, Kit, and Kaya came out, you could buy cards for them too. I have a very incomplete collection of those 3. They stopped selling the trading cards after Kaya.
Top:
 Side:
 Other side:
 My box is empty because I put all the cards in the album, but the box has dividers for each AG.
 I don't have much of Kaya, but here is what I do have:
The back of every card has either extra historical information or a trivia quiz pertaining to the picture on the card and that character's story.
This is the first page of Felicity's card collection. As you can see, not only are there cards for every illustration in her books, but there are also extras: There are cards for Felicity herself, Felicity's reading picture, her parents and Ben.
The back of that page:
I only have two Josefina cards!
Kirsten:
The last page of cards contains a photo of the author and another card listing the complete collection of that character.
Addy: These cards contain the first illustrations of Addy. These illustrations are so good. They make the books really come alive and seem so real (especially her meet book), then when Mattel came along, they changed them and made Addy fuzzy, and drab. I really like the Beforever Addy though.
Old Addy:
New Addy:
Beforever Addy:
Here are Samantha's illustrations before she was changed by Mattel. I really hated how they changed Samantha because she was my favorite and I loved her face.  I thought the new Samantha looked older and didn't have a cute face and smile. Of course,now the Beforever Samantha looks completely different but like Addy, I like what they did.
Old Samantha: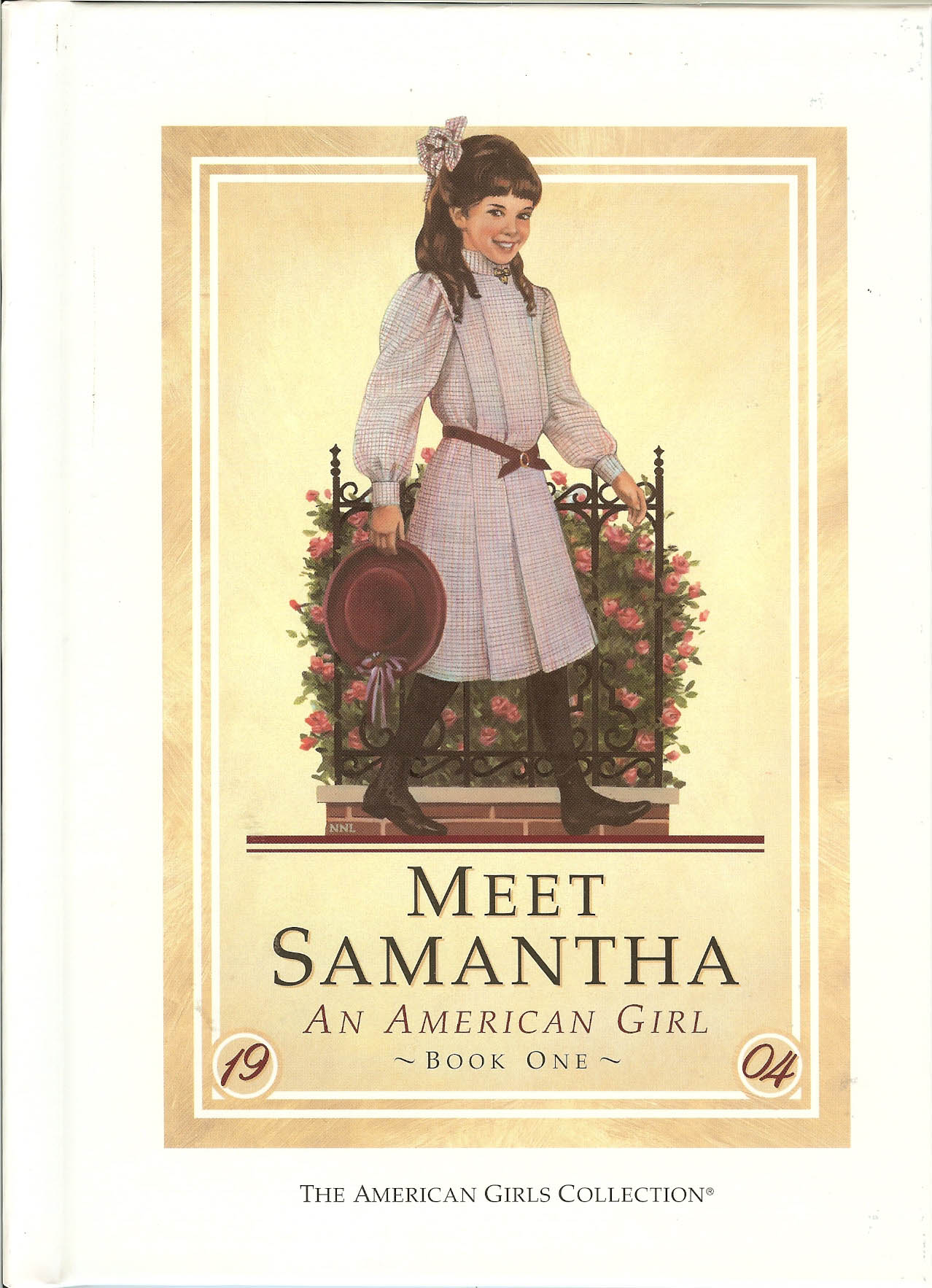 New Samantha and Beforever Samantha:
Since the 90s, they have not changed Molly except to retire her (sob, sob).
I don't have much of Kit, but here are some of her cards:
 Grin Pins
In the 90s they offered Grin pins to put on not only your own clothes but your dolls clothes. They work really well with the first modern meet outfit. The dolls grin pins are really stickers, and like the charms AG used to use today, these came with every modern outfit too. One funny thing I remember as a girl when I went to the AG store was that they sold the mini historical dolls on both floors. The bottom floor held the historical collection and theater. You could buy a mini doll in a white box there. On the top floor was the modern collection and you could also buy a historical mini on that floor, but the dolls on that floor came in two boxes. The first box was a modern box with the Girl of Today logo on it, inside that was the same white box as on the lower floor, the real difference was that these dolls came with grin pins and the historical minis on the bottom floor didn't! Weird! Sorry this pic is so blurry, the doll "pins" are so tiny. I tried zooming but it ended up blurry.
 Here is my entire collection of human size grin pins.
 It's hard to see the details in the first picture so here are some close ups.
 The historicals even had grin pins too! At the store, they would sometimes hand these out for free. You would get a big pin and some smaller ones.
Calendars
My parents started out buying these calendars for me as they came out when I was a girl and later I bought them myself. I have 5 of them from 1997-2001.
 Here's the 1997 one before they changed Samantha and Addy's illustrations.
 Each month featured an illustration from a character's book, historical information and a diary entry from the character herself.
 In the middle of the calendar were stickers you could put on. I'm surprised I used more than 3!
 I LOVE Addy's reading picture.
 The back of every calendar had an activity to do:
 1998:
 Samantha and Addy still weren't changed.
 1998 was very similar to the previous year, but the historical information was all on one side.
 1999 Josefina arrives and Addy and Sam get altered.
 Almost the exact same layout as 1998.
 Activity at the end:
 2000.
 This friendship book was really cool and had lots of pages. The ribbon binding made it look very elegant. I know I used mine but I can't find it.
 2001 Calendar changed dramatically from the previous ones. Do you recognize the front cover? it Features all the characters World books. Those World books are the best books AG has ever come out with in my opinion (besides the character books of course)!
 This calendar is more than twice the size of the previous ones! Here's the back:
 Each page had the usual calendar page still with historical information, but on the back was a poster of certain illustrations in their books! I still use these posters today.
 Not only is there historical information for each month…
 But for each day, you got to put a sticker on it and learn a tiny bit more!
This is by far my favorite calendar. I have no idea when they stopped selling these calendars but I wish they hadn't. I don't think there's any chance they would bring them back because the Beforever books have no illustrations.
These are all of the official Extras (that's what AG called them in the catalog) that I own, but I had mentioned in my catalog posts that I wanted to show you some other extra AG things like the Hopscotch Hill dolls, and Girls of Many lands so keep reading!
Hopscotch Hill School dolls:
I already told you how much I love these dolls with their mulit-joints and little outfits. Here is my entire collection. First up is Hallie. She has pretty curls and a sweet face with green eyes.
 These are old dolls and their limbs are really loose. I read that it's extremely difficult to tighten them, but doll stands do the job of holding them up.
 Close up of Hallie's face.
 Her pretty curls.
 Logan is the other doll I own. She used to have red hairbands but they're gone so she borrowed Molly's ribbons. She came in pigtails with a red ladybug backpack and book (which I don't have).
 You could buy extra outfits for them. Here is their school spirit outfit. It contains lots of pieces.
 The jacket is lined.
 I don't think I'll ever take Hallie out of her meet outfit. I tried, but her skirt and tights fit so tightly around her body that I'd really have to pull to get them off and since her legs are so loose already I'm afraid they might come off and AG will not accept these dolls in their hospital. Logan is fine with being undressed. Here are what her joints look like. They're kind of ugly especially compared to kidz n cats and Via E.
 Here she is in half of her school outfit.
 These dolls were geared toward very young kids and although I'm thrilled this outfit came with a long sleeve shirt, I would imagine a child would have a very hard time putting the jacket on over that shirt because the sleeves bunch up. I'm an adult and I had a tricky time doing it!
 The two friends together.
 Oh, here's a pic of Logan's meet outfit. I just can't get over how adorable these outfits are especially since they're so small!
 Girls of Many Lands
Unlike the Hopscotch Hill, these dolls were geared toward older girls. They are a display/collector doll only. As I've said before, their books are really good. I've only read 2 so far, but I highly recommend them. Each doll came in a keepsake box. The front:
 The side: It closes with a ribbon.
 The box opens to reveal the doll on one side and her book on the other. I have never taken Cecile out of her box but I will for you! I just won't unpack her.
 Her book is written by the same author who wrote the Chrissa and Grace books (and probably more). I loved this story.
 The back of the book.
 Cecile Revel, and all of these GOML dolls were created by Helen Kish.
 I'm really not a fan of her face. Her eyes have too much  makeup and her lips are too chubby.
 But everything else about her is beautiful and wonderfully detailed. Just look at these shoes and the beading on the dress!
 The lace on her dress and her bracelet are so pretty.
 If Elizabeth or Marie Grace had these kind of curls…it would be so magnificent but also REALLY hard to maintain in perfect condition.
My favorite AG Backpack
I know this is weird to make such a fuss over a doll's backpack, but one of the big reasons why I love AG so much is their attention to detail and to keep the doll items as human like as possible (at least, most of the time). This backpack from 2001 clearly demonstrates that. It looks like a normal nice backpack with cute little charms attached, right? Well just wait.
 It has padded straps! Man, if I had a backpack with padded straps like these when I went to school it would make carrying books a lot more comfortable!
 Open up that little front pouch and you see a cute little pencil and eraser holder with two levels!
 The next pouch goes all the way down the backpack. Perfect for storing folders.
 And the big main pouch holds the most books and binders than any other AG backpack I own (not counting the camping backpacks).
Again, thank you for reading and I always love your comments!
-Heather