Every day Camille would run down the stairs, look on the table where the fairy leaves were still spread out, and then run to the window and look out at the edge of the fairy forest, but the thick green grass blocking the entrance was still there. It seemed to have grown thicker and taller.
Katelynne was starting to get a little worried. She was just as certain as Camille that they would both go to the fall fairy festival someday and sometime, but Camille seemed so confident that it would be now. Katelyne was worried how disappointed she'd be if that didn't happen. Fairies were often fickle folk, and time meant something different to them then it did to dolls and humans. (Although dolls have a very different sense of time then humans do too)
So Katelynne tried the next best thing; to distract Camille from the fairies and try and tire her out at the same time.
"Hey, do you want to visit the Bergey's Bakery?"
"Oo! Yes! Do they have pie? And cake? And ice cream?"
"Yes! And yes! And yes! And a big surprise too!"
Off they went on another hour's ride to Chesapeake Virginia.
 "Wait a minute…this isn't a bakery! It's a farm!"
And it was. It was a huge sprawling farm filled with all sorts of animals.
 They got to ride on their own little tractor to visit each of the animals.
 "Wow! This is so fun! I'm up so high!" Camille said, sitting on top of Katelynne's lap.
Camille got comfortable with a cow:
 And her baby calf:
 Katelynne got to pet a pig:
 And they both chatted with the chickens:
"Are you ready for the surprise?"
"The surprise!" Camille bounced on her booted toes, "Yes! Yes! Yes!"
"Come here!" Katelynne led to a tractor just like the one they'd just ridden on except it was 10 times bigger:
 "Whoa!!! Oh! Katelynne, I love this! What a wonderful surprise! I get to be up SO high!"
"Silly Goose! This isn't even the surprise yet! This is just going to take you there! Come climb up!"
The two climbed up on the old worn seat. Katelynne roared up the motor and off they went.
They drove down a little road, rounded a bend and then Camille saw the real surprise: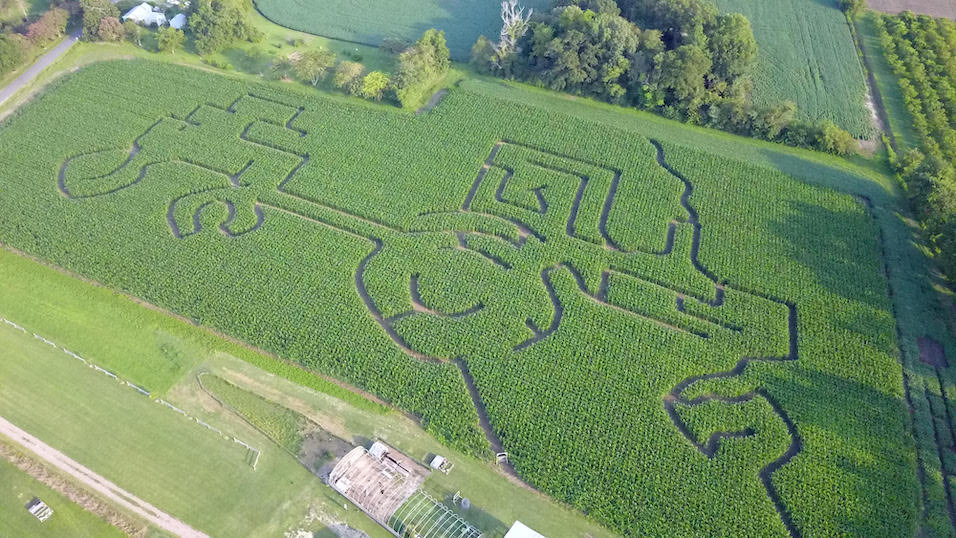 "A corn maze!! Wow! It's so big!"
"Yeah, I wonder if there's any map," Katelynne said, "It's going to be hard to keep what we saw of the tractor in our heads."
 "Aw, we don't really need a map do we? I don't think it will be that hard."
"Yeah, I suppose we'll have to get out eventually. Once they harvest the corn."
Into the maze they went, with Camille skipping alongside Katelynne. She really didn't care if they never got out, she was so happy to be having an adventure with Katelynne. The dirt corn trail wound in every sort of direction and all too soon they came to a fork in the road.
"Which way?" Katelynne asked with a smile, "Left or Right?"
"Left!" Camille guessed.
But it wasn't the right choice. They came to a dead end, face to face with a cow!
Camille ran up to the cow's face, "Mooo to youuu!"
"I'm going to milk you!" Katelynne giggled. Katelynne started giggling as she pretended to milk Camille the cow and then gasped because black beads suddenly poured out of the udders in to the bucket!
"Whoa, look at that! Oh, and look, read this! We're supposed to collect the beads! Collect the beads at each dead end and you'll get a prize at the end! Oh boy!"
The two girls started running through the maze in happy excitement where they found a pig.
But they couldn't find anything more. They kept walking and walking, trying right turns, then trying left turns, but all they saw was corn.
"Do you think we're stuck? Are we going in circles?" Camille asked. She didn't mind too much, but she could sense Katelynne's unease.
"I don't even know. We're trying to be consistent in our turns, but I'm all discombobulated."
They kept walking as it started to get later and darker.
They walked and walked until their feet got tired. They'd take a turn and think they were going in the right direction, or at least a different direction but it always led to a dead end. But they must've been making some progress because one of the dead ends led to a blessing:
"A tractor ride!! Oh boy!"
The dolls jumped in with a relieved sigh and collected another bead.
"This will take us back faster!" Katelynne said.  They drove through the cornfields for a while until Katelynne shouted, "STOP! I just saw a sign! Back up!"
They backed up down a little lane with a sign at the end:
"You are here….yes! We are here, but where's here!?" Katelynne said exasperatedly.
"Wait, this sign points down, maybe we have to dig a hole and we'll find a tunnel that will lead us back to the farm!" Camille replied.
"No, I don't think so…but maybe it's the opposite! Maybe it's this:
You are here and here you stand
in the place, in present in land
at the spot at which you see
to the point to now perceive."
"What the HECK does that mean? And how do you know that?"
"I"m reading it," Katelynne pointed to the end of the arrow where there was some writing, "I think it's telling you what 'here' means."
"It is?"
"Yes. 'You are here and here you stand.' We're standing here, aren't we? 'In the place, in present in land.' We're in a place, in the present, in a land. 'At the spot at which you see.' We're standing at a spot and seeing something."
"Corn and corn and corn!" Camille said, beginning to understand, "'To the point to now perceive.' We're supposed to perceive something, aren't we! We're supposed to figure out how to get out of here right here and right now!"
"Yeah, only how do we do it?" Katelynne asked.
Camille started mumbling to herself, "'At the spot at which you see…in the present land…in, at, or to this place…I GOT IT!!!"
Katelynne turned around and looked at her expectantly.
"We need to look at a spot in the land to perceive something, but we can't see anything of the land cause the corn is too tall, so we have to climb it!!"
"Oh my gosh!" Katelynne started laughing, "We're so dumb we needed a riddle to figure that out!"
Camille had already started climbing.
"I can see! I can see! I can see the silos! That's the farm way over there!"
"The silos! Huzzah!"
 "Great work! Come down so we can go!"
 Camille slid down the cornstalk and the girls went running in the direction of the silos.
They only felt lost one more time when Katelynne climbed up to check where the silos were.
She was certain she'd see something that would point her in the right direction but all she saw was a field of corn. Her heart sank.
"Oh dear. I don't see the silos anymore. I don't see anything. It's all corn."
"What should we do?"
"The only thing we can do which is to keep walking I guess."
"Wait! Do you hear something?"
"Mooo!"
"We're almost there! So close!"
They turned one more corner and saw a wide opening.
"We did it!"
 "Do we really get to take home a turkey??" Camille asked.
"Look! Here they are!"
 They had been watching the turkeys and hadn't seen another sign that asked for their beads.
"Oh no! We're missing the cat bead!" Camille shook her head in disappointment, "I guess no prize for us."
"Nope! We get a different surprise! Look over there!  We can help ourselves to corn instead!"
 "I think that would be a lot easier to transport home too!"
The end.
Behind the scenes:
Yes!! I really got to go to a corn maze with my Aunt Deni who was so wonderful helping the dolls try to find their way, and giving them a boost as they tried to climb up the cornstalks. I had SO much fun! The Bergey's Breadbasket is really cool to see and they had very yummy ice cream!
-Heather